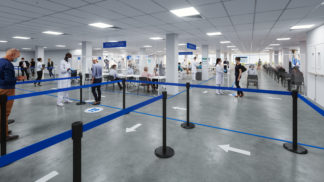 AMA helps its client, CAE, in the creation of a corporate vaccination centre
As part of the COVID-19 vaccination campaign, the Quebec government called on companies to lend their spaces to help vaccinate the population as quickly as possible. We are very pleased that our long-time client, CAE, a pioneer in aerospace and health training, has answered the call. CAE has been involved since the very beginning of the pandemic by putting its technological expertise at the service of the population — they created the Air1 respirator, for instance. Because it occupies a large campus, it seemed logical to CAE to offer one of its pavilions in order to contribute to the effort once again. The official announcement was made on March 19 during a press conference broadcasted live on Prime Minister François Legault's Facebook page.
Atelier Monarque Architecture is therefore collaborating with CAE and LEM experts-conseils to reorganize the offices in record time to transform them into a proper vaccination centre. Thousands of additional people will thus be able to be vaccinated in the area surrounding the CAE campus.