Theoretical projects
2020/09/10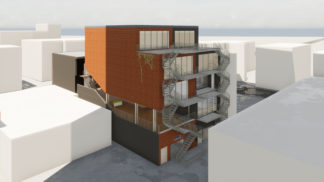 Our client, owner of two adjacent buildings in the Little Burgundy neighborhood, wanted to add an extension to one of the two buildings to turn it into his home so he would be closer to his family. The client wanted his new condo to mirror the existing condo in the first building, but multiple changes to the municipal code as well as the various functions the building needed to fulfill did not allow for us to simply replicate the existing condo.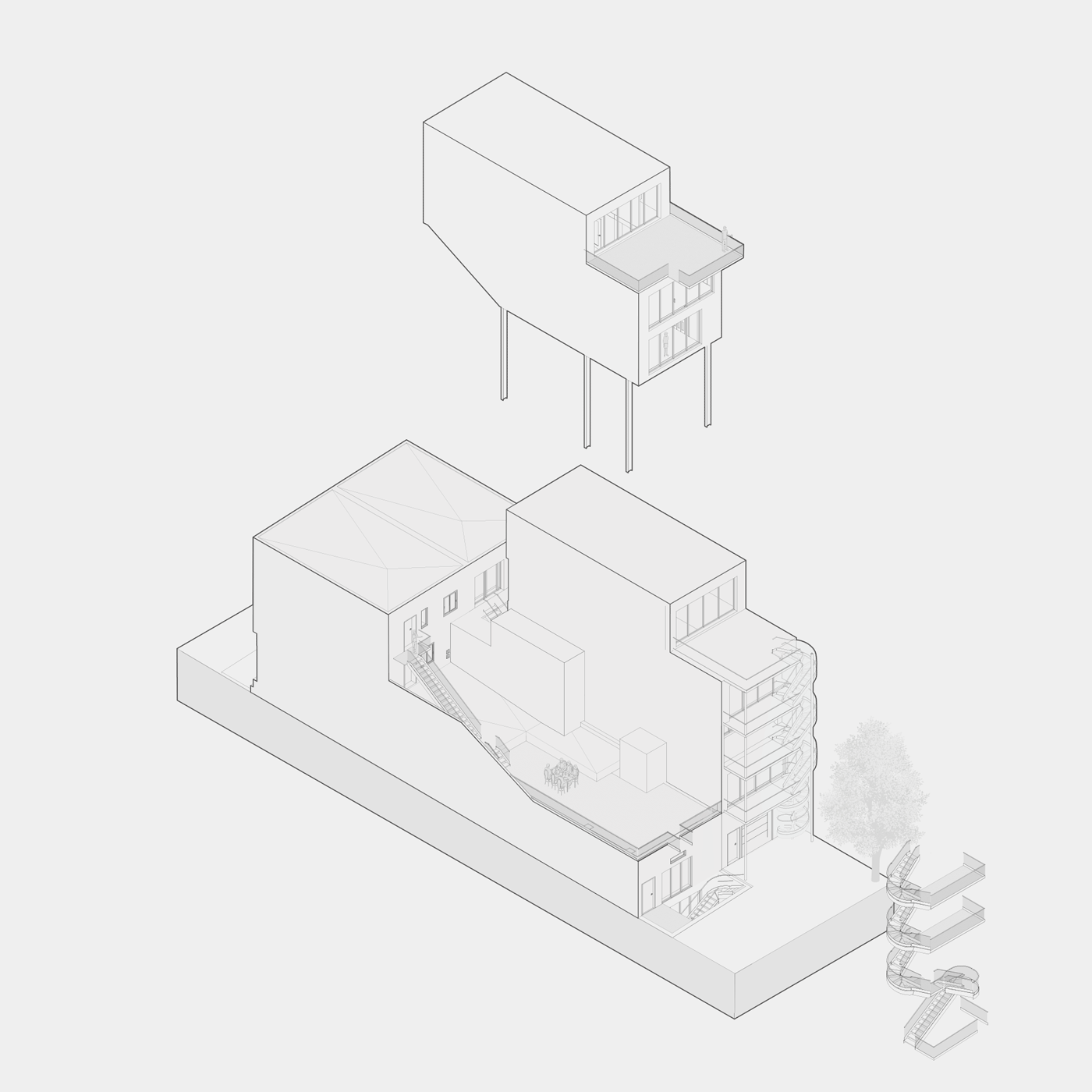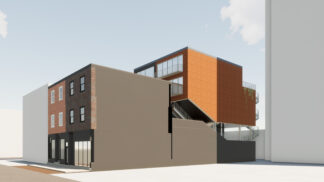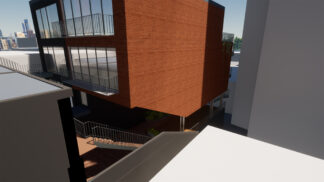 The two buildings in question are historical multi-use constructions that have storefront on the street. Therefore, they fall under the municipal regulation that requires the use of specific architectural finishes on new constructions in order to harmonize the urban landscape. In order to create a visible relationship between the buildings, we opted for a brick façade that would echo the façade finishes of the commercial space of the existing portions, while also blending in well with the Montreal urban landscape design where brick predominates.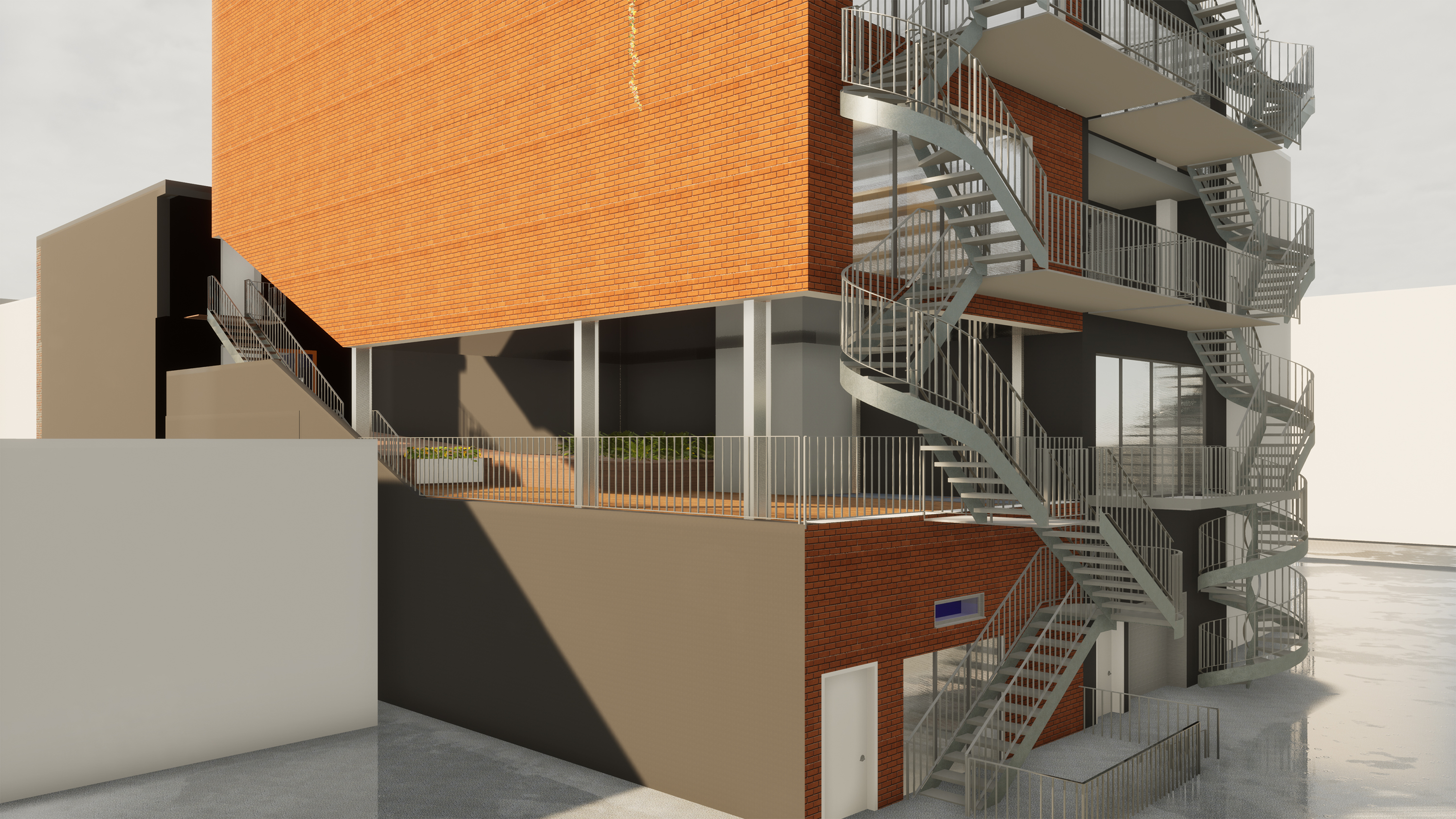 We wanted to create a link, both visual and physical, between the various apartments that constitute the small "complex" formed by the two buildings. These apartments bring together three generations of a single family, and we believed it was important to create common space that would bring together all three generations so they could cohabit. We proposed the inclusion of a diagonal break in the extension that would be used as a connecting interior courtyard. This opening would also bring natural light and fresh air to the very heart of the building. This covered courtyard also allowed the inclusion of a secondary safety egress for the grandparents' home while also serving as a terrace for the families; the courtyard being covered also meant protection from the elements, which is practical in the Quebec climate.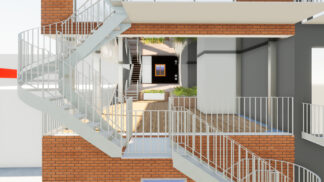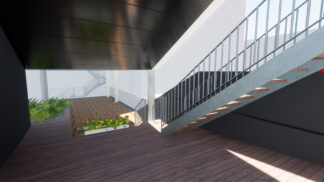 In order to provide the family with a comfortable living area, we placed the different rooms for active life between the bedroom floors: masters' suite on the first floor, living room, kitchen and dining room on the second floor, and the kids' bedroom on the third floor, occupying a vast mezzanine that overlooks the living rooms. The city code did not permit the inclusion of a complete third floor, as per the height limit for the buildings in this area.
To make circulation as fluid as possible between the levels, a small elevator that would serve both the existing and new condo was integrated in the core between the two buildings. Finally, in order to fully take advantage of the building's southern exposure, we included balconies, terraces and large fenestration on every floor to optimize luminosity inside the residence and to compensate for the blind walls — typical to this kind of building and zoning — on both sides of the construction.